Persimmons!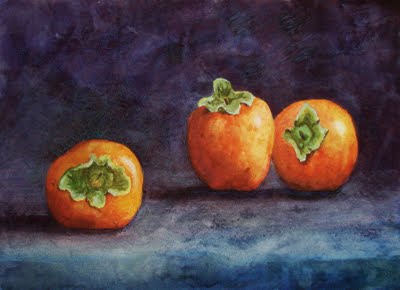 We had a persimmon tree when I grew up. My grandmother would make persimmon cookies. These always are the sign post that we are deep into our fall season. They are the most intriguing rich dark shade of orange, bordering red. They glow from within when they are perfectly ripe.
I hosted a wonderful workshop with Ric
Dentinger
(www.ricdentinger.com) this month and we ended up painting these beautiful persimmons. I enjoyed painting them so much in watercolor that I painted them over and over in oil. Chris Chapman brought a lovely botanical persimmon soap for me that she made herself and has used her extraordinary botanical illustrations as the graphic design (www.chrischapmanfineart.com). I used some of my
Fuji
persimmons in a stir fry for dinner. Yum! I think I've done a fine job
immersing
myself in this luscious fall fruit.